There is never anything that will take the pain away of losing a child, but we do have faith that we will see Avé again. Here are some passages from scripture that our family has found helpful and encouraging.
Job 14:5 – "You have decided the length of our lives. You know how many months we will live, and we are not given a minute longer."
Psalm 34:18 – The Lord is near to the brokenhearted and saves the crushed in spirit.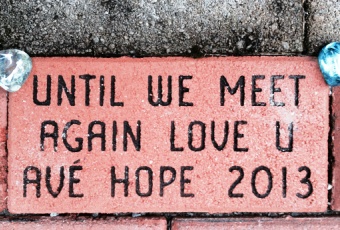 John 16:33 – I have told you all this so that you may have peace in me. Here on earth you will have many trials and sorrows. But take heart, because I have overcome the world."
Matthew 5:4 – Blessed are those who mourn, for they shall be comforted.
Matthew 18:14 – So it is not the will of my Father who is in heaven that one of these little ones should perish.
Revelation 21:4 – He will wipe away every tear from their eyes, and death shall be no more, neither shall there be mourning, nor crying, nor pain anymore, for the former things have passed away.
1 Corinthians 15:22 – For as in Adam all die, so also in Christ shall all be made alive.
Matthew 10:30 – And the very hairs on your head are all numbered.
Psalm 139:13 – You made all the delicate, inner parts of my body and knit me together in my mother's womb.